Building A Dream
Hospital Guest House is currently in the process of constructing a new facility to serve the people of the Tri-cities area. This new facility is projected to be completed within 6-9 months of breaking ground. After its completion this new building will offer up to 10 guest rooms to serve the families of patients in local area medical facilities.
Please consider making a difference in the Tri-Cities region.  Make a donation to the Hospital Guest House of Southern Appalachia to ease the burden and provide services to those needing overnight accommodations relating to medical care.
Hospital Guest House of Southern Appalachia is a 501c3 nonprofit organization.
Tax deductible contributions are truly appreciated.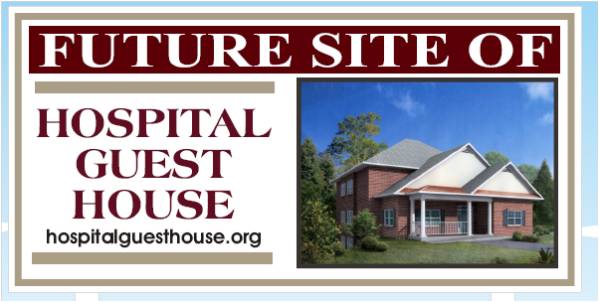 Land
Land lease held by JCMC at $1 per year for 99 years (renewable)
Construction & Drawings
Estimated cost of building including land at $2,100,000
Partnership with contractor, Tom Burleson
Work with Tim McGahey for designs
Break Ground
Plan to break ground as soon as possible. (we need $300,000 more for this to happen)
Estimated time to complete at 8-12 months.
How Can You Help?
You can participate in a variety of ways:
Help inform other people of the need
Honor someone with brick in their name
Challenge group to name a room
Show up at one of our events
Volunteer for a project
Desire to continue the present level of support and improve services to the region
For More Information or to make a Donation ~ Contact
Chuck Randolph
Blackburn, Childers, & Stegall
PO Box 3973 CRS
Johnson City, TN 37602
423-282-4511